CHAINMAILLE JEWELRY & THINGS
New items coming very soon!
We now have an Etsy Store. If you'd like to visit go to: www.etsy.com/shop/celticlady1155
Huzzah! Chainmaille is not just for Medieval Lords and Ladies anymore! Handmade jewelry designs can be worn with period re-enactment costumes for Renaissance/Celtic Faires, Gothic fashions, belly dancers or choose more comtemporary designs for everyday use.
Chainmaille, the ancient art of knitting or weaving metal rings is over 2,000 years old. It has long been associated with medieval knights throughout Europe but was also used by the Celts, Romans and Japanese. All our jewelry is made by hand using a wide variety of traditional weaves requiring rings made from annodized aluminum, stainless steel, galvanized steel, copper, brass, jewelers brass, sterling silver and gold filled wire. In addition we also incorporate Swarovski® Crystals, Czech Glass beads, Sterling silver/Bali silver beads or charms and spacers. Dragonscales are also available in a variety of finishes.


Necklaces, chokers, bracelets, arm bands, headbands, hand flowers, ankle bracelets, keychains, hackey-sack covers, wallet chains, guitar straps, belts, bookmarks, epaulet chains for bikers' leathers or dice bags for fantasy gamers, suitable for men or women. We have a wide price range from the inexpensive to more expensive custom/special order pieces fashioned from sterling silver and gold filled materials. More designs to come soon.


We are big into recycling! One and only attempt at a pop tab corset.

Here are Mom (me) and Sis at our last art show. Man, was it hot! 90 degrees, humid and no wind. Guess it was better weather than last year which was cold and rainy from what I'm told.
Check out the pop-top corset in the background. I'm wearing this to the Renaissance fair in a couple of weeks. The corset attracted lots of attention to our booth.

That's Sis working on new items.

Some of our latest wares.
I'm still learning to operate the digital camera and hope to get individual pics of each item and price up very soon. Check back often, we've got lots of new stuff to add in the next couple of weeks.
---
We attended the Minnesota Renaissance Fair in September. Here we are in costume.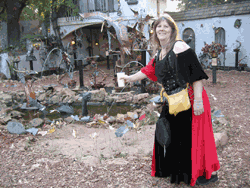 There is a dragon fountain behind sis. Didn't get a very good angle on this shot. She wanted it to look like it was filling the glass.
---
Local craft fair July 2009: We spruced up our tent a bit this year. We wanted it to look a little more "medieval". Added some Celtic tapestries inside and out, the navy blue borders on top with dag cutouts. The boys were in too much of a hurry to tear down our site before I could get some good pics.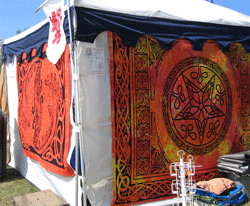 Sis is resizing a handflower for a customer. I'm getting that look that says, "Why are you taking my picture AGAIN?"
Smile for the camera! Have pliers, will travel!
We did pretty well considering the current economic crisis. Didn't even expect to earn back our booth fee. But we did and then some, so I guess we'll be back again next year. Will post pics of new items for sale over the next couple of days. We've added Barefoot Sandals, zipper pulls and stretchy bracelets made from a combination of rubber rings and colored anodized aluminum or enameled copper rings. We are having a great time learning new weaves and trying new materials for our designs.
| | | | |
| --- | --- | --- | --- |
| | | | |
| | | | |
| | | | |
| | | | |
| | | | |
| | | | |
| | | | |
| | | | |
| | | | |
| | | | |